Welcome to The Human Factor, a podcast that puts the social in science.
I'm Cheryl Croucher. The Human Factor  explores the impact scientific inquiry has on our daily lives and our decision making.
This is Episode 6 of The Human Factor.
My guests are Laura Chajkowski and Lisa Semchuk.
Both are with the Federation for the Humanities and Social Sciences and they are in charge of organizing the Federation's premier event, Congress 2022.
That interview coming up on The Human Factor.
Transition In A Changing World Headlines Congress 2022, Canada's Largest Academic Conference For Social Sciences And Humanities Researchers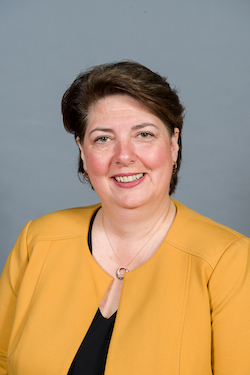 You know that saying, go big or go home?
That truly epitomizes the Federation for the Humanities and Social Sciences when it comes to mounting its annual Congress.
Congress 2022 takes place through the middle two weeks of May. The theme is "Transitions" and the event will bring together over 6000 academics, policy makers and researchers from the humanities and social sciences.
Congress 2022 marks the 91st anniversary of this colossal annual event.
This year, because of the pandemic, the entire Congress will be virtual. With over 1700 live sessions, that's a lot of Zoom calls to manage.
The person in charge of all the logistics is Laura Chajkowski, Director of Congress and Events with the Federation for the Humanities and Social Sciences. Speaking to some of the keynote sessions Is her colleague Lisa Semchuk, the Federation's Acting Policy Lead.
Highlights include the "Big Thinking" lecture series along with hundreds of other presentations.
Here's our conversation.
Cheryl Croucher interviews Laura Chajkowski and Lisa Semchuk

CHERYL CROUCHER: LAURA, IN A NUTSHELL, CAN YOU TELL ME A LITTLE BIT ABOUT WHAT CONGRESS IS AND WHAT THE HISTORY OF IT IS?

LAURA CHAJKOWSKI: Sure. To begin with, we are an association that is made up of many different Canadian associations and Canadian universities, and our membership is involved in the humanities and social sciences disciplines. Congress from a history point of view has been around since 1931.
Our first Congress ever took place in Ottawa and so, we are embarking in a very short period of time on our 91st edition of Congress. This will be our second virtual Congress for the Congress 2022.

Congress 2022

CHERYL CROUCHER: WHAT DO YOU MEAN BY CONGRESS? WHAT DOES THAT INVOLVE?

LAURA CHAJKOWSKI: Congress for the disciplines of humanities and social sciences is bringing together approximately 70 associations in an in-person year. These disciplines range from sociology to medieval studies, to the study of education, to women and gender studies. Oh, Lisa, help me.

LISA SEMCHUK: Yes. History, philosophy, sociology, communication, higher education, open technology, even things from Hungarian studies, German studies, Netherlands studies. Just about any way you can think about people, what we do and why, there's an association at Congress that's there that's thinking through those questions.

CHERYL CROUCHER: HOW MANY PEOPLE DO YOU EXPECT TO PARTICIPATE IN THIS?

LAURA CHAJKOWSKI: So our anticipated attendance is just over 6,000. We were successful last year with about 6,200 attendees and historically Congress ranges anywhere in an in-person from 8,000 to our last in-person in 2019, we had almost 11,000 registered attendees that participated in one or more of the associations that took place.

Congress is unique because Congress happens over a seven to nine day period. And within those seven to nine days, each of these associations that participate have anywhere from a one day conference to a six day conference. And so, there are a lot of interdisciplinary events that take place and a lot of knowledge transfer between the different associations and disciplines that come to Congress.

CHERYL CROUCHER: AS THE DIRECTOR OF CONGRESS 2022, WHAT IS YOUR ROLE?

LAURA CHAJKOWSKI: Well, my role is, and if I can coin the phrase, steering the ship. We are bringing together for Congress 2022, 37 of our member associations and it's really being that conductor who is looking after logistics and just keeping everything on track.

We're working with 37 different association planning committees, program committees, and just working through all of the logistics of the programming that is involved on top of looking after the programming that the Federation supports through our signature series.

CHERYL CROUCHER: AND LISA, YOU'RE JOINING US TODAY, TOO. WHAT IS YOUR ROLE WITH CONGRESS 2022?

Lisa Semchuk, Acting Policy Lead with FHSS

LISA SEMCHUK: Happy to speak to that. So my role, I really think about it in terms of the specific areas of programming at Congress 2022. First and foremost, our "Big Thinking" series. This is sort of like the keynote kind of flagship lecture series that is offered throughout Congress.

So it is really highlighting some very prominent thinkers from the humanities and social sciences that tend to draw quite the crowd and they tend to happen over the lunch hour over Congress.

But then, also supporting some other areas of programming, that being Career Corner which is the professional development series that is offered throughout Congress. So that's anything from learning about different grants, fellowships or other resources to support early career emerging scholars to things like learning about different ways to publish your research or how to make engagements or impacts there.

CHERYL CROUCHER: WELL, I'M REALLY CURIOUS ABOUT THIS "BIG THINKING" SERIES OF LECTURES. WHAT'S THE IDEA THERE, FIRST OF ALL?

LISA SEMCHUK: So "Big Thinking" has been a series that the Federation has done for quite some time, always with the goal of kind of amplifying those key ideas in the social sciences and humanities that we want people who maybe aren't as familiar with those disciplines to be aware of. And so, it's something that the Federation does not just at Congress, but is a key component of what we do at Congress.
I mean, happy to talk a little bit about this year. We have four different "Big Thinking" lectures. Each are tied to our theme "Transitions". And to speak to that, that theme really captures this moment that we're in right now.

Times can be kind of tumultuous and a little bit turbulent and there's this recognition that we are in a transition. Things are rapidly changing and looking forward to, well, where do we want to be? And so, the theme of transitions, it's thinking about transitions to a more equitable and just society. It's thinking about the climate transition, but from a more humanities and social sciences perspective.

And then it's also thinking about transition post-COVID and how do we make that "build back better" terminology, but how do we as social scientists and humanities researchers think that we can achieve those goals.

CHERYL CROUCHER: YOUR NEWSLETTER JUST CAME OUT BEFORE WE STARTED OUR INTERVIEW AND THE FOUR DIFFERENT AREAS THAT YOU INTRODUCED, ONE OF THEM THAT REALLY STRUCK ME WAS THIS WHOLE IDEA AROUND PETROCULTURE. WHAT'S GOING TO HAPPEN IN THAT ONE?

Professors Imre Szerman of UWaterloo and Sheena Wilson of UAlberta form the Petrocultures Group

LISA SEMCHUK: So having to say Petroculture, it's a new word that I've learned in putting together this "Big Thinking" series. That's the idea that the world that we live in is very much shaped on our dependence on things like oil. We live in a very kind of energy rich and intensive moment at this time.

So, the Petrocultures lecture, that's going to be May 9th, 12:00 to 1:00 PM Eastern time. Keep it in your calendars. You know, there's so much talk about the climate transition, transitions in the kind of energy we use, the Petrocultures Group is really thinking about what other societal changes need to accompany those changes in energy.

It's not just about switching from something like oil and gas to electric. It's what other kind of broader societal behaviors are going to need to go hand in hand with those kind of technological changes in the resources that we use.

CHERYL CROUCHER: WHO ARE THE OTHER HIGHLIGHTS FROM THESE "BIG THINKING" SESSIONS?

Denise Ferreira da Silva, Artist, Author and Professor at UBC

LISA SEMCHUK: Very happy to share those. So, we have Dr. Denise Ferreira da Silva. She is going to be speaking on May 16th, again from 12:00 to 1:00 PM Eastern. Her lecture is going to be about shifts in thinking around decolonization. It is really thinking about when we see these moments in time in history like we're in right now, where it's these rapid periods of change, how do we bring the mindset of decolonization into it as we think through this transition that we're in right now.

Then some of our other keynotes that I'm happy to highlight. We have Onowa McIvor who is going to be talking about Indigenous language revitalization through a project that she runs called the NEȾOLṈEW project, which is an Indigenous word that roughly translates to "one mind and one people". So it's highlighting some of the innovative work that she and many other partners that she's worked with across the lands that we now call Canada have done to really kind of preserve Indigenous languages.

And then last but certainly not least in the list that I'm speaking to at the moment is Dr. Christine Vezina. She's going to be joining us on May 13th from 12 to 1:00 PM. Her lecture is going to be entirely in French. And she's going to be talking about, as we think through this post COVID transition, how do we do that in a way that is based on prioritizing the economic and social rights of people.

CHERYL CROUCHER: LAURA, YOU CHARACTERIZED YOURSELF AS THE CAPTAIN OF THE SHIP AND NAVIGATING THROUGH THIS TREMENDOUS AMOUNT OF WORK THAT NEEDS TO BE DONE IN ORDER TO SET UP THIS VERY, VERY BIG CONGRESS. HOW DO YOU MANAGE THE LOGISTICS OF IT? WHEN DO YOU ACTUALLY HAVE TO START ORGANIZING IT?

LAURA CHAJKOWSKI: Well, Cheryl, that's a really good question and what I would say to you is that this has been a plan in the making since summer of 2021. So we had just finished Congress 2021 in June of last year and we jumped right into the planning stages of Congress 2022.

Our associations have issued their call for papers and started soliciting for various abstracts within their specific disciplines and the abstract processes continued throughout the fall and into some of the early months of winter.

Logistically, we have been working with our platform partner in building a very robust platform that can accommodate 2 to 3000 people on any given day to be coming into the platform. We've been working with the associations to understand what their live session needs will be and understanding the impact and the volume that is coming our way.

Onowa McIvor, Professor in Indigenous Education at UVictoria

We're happy to say that at this moment for our open event programming – and an open event programming for us is associations that have offered to take some of their programming from their annual conference and make it open to all attendees, registered attendees to Congress.

We have over 140 hours of live sessions that are being offered and are available through community pass. So for $55, people can attend, can return and listen to them in archive right through to June 3rd.

For the live sessions within the annual conferences of our associations, we have over 1700 live sessions. And in addition to that, we have on-demands that are available both at the community level and at the association level.

So there's a lot of Zoom rooms. And I think on our peak day at a peak hour, we have about 125 live sessions starting simultaneously.

So if you can just imagine, behind the scene I have a team of almost 200 people that are working the system. They're working the electronics, the technology. They're monitoring, and we're working with an amazing team of student contractors from universities across Canada, who are coming together virtually to look after all of our associates.

And it's quite an undertaking and quite a number of people that are behind the curtain making sure that our presenters are well taken care of, that they are able to present their research, which is the voice of our conference. And we want to make sure that they're well taken care of. So it's big!

CHERYL CROUCHER: FOR SOMEONE WHO HASN'T ATTENDED A CONGRESS BEFORE – AND I SPENT QUITE A BIT OF TIME OVER A COUPLE OF DAYS JUST GOING THROUGH THE SCHEDULE – AND I WAS AMAZED AT THE RANGE. EVERYTHING FROM FILM STUDIES TO TALKING ABOUT WHAT'S HAPPENING IN UKRAINE. IT'S QUITE AMAZING. BUT HOW DOES SOMEONE WHO HAS NEVER ATTENDED BEFORE, HOW DO THEY KIND OF NAVIGATE THEIR WAY THROUGH THE SCHEDULING? ANY TIPS?

LAURA CHAJKOWSKI: I think that from our Congress website, we have a section called Calendar of Events and both for anyone interested in coming to the virtual Congress, I think a good place to start to navigate is to look at our Calendar of Events. And that allows someone who's never been to Congress to kind of step their toe in and take a look at what the diverse type of programming is available.

I think that as you start to look at the various associations that are attending Congress and taking a look at their programs, you'll open up their PDF program and you'll see again some excellent speakers that are there. Each of our associations encourage non-members to register and attend their annual conferences as well. And so there are various options to access that programming.

We have associations, the Black Canadian Studies Association, for example, that have some amazing programs that are both available for community members, but also for those who wish to register and attend their association.

Film studies is another one. There's some amazing programming that's taking place there.

CHERYL CROUCHER: LISA, IS THERE ONE SESSION THAT REALLY STANDS OUT FOR YOU THAT SIGNIFIES THIS IS WHAT CONGRESS IS ALL ABOUT?

LISA SEMCHUK: We have spoken to our "Big Thinking" lectures already. And I'd say those are definitely a great place to take a look.

But as you're asking me this, I thought of a session, and I believe it's from the Canadian Society for the Study of Higher Education. It's taking some recent reports, both from the Truth and Reconciliation Commission as well as a recent report the Federation for the Humanities and Social Sciences did called "Igniting Change", all thinking about how we take those practices of equity, diversity, inclusion and decolonization, and take them seriously and implement them into our own practices in social sciences and humanities disciplines.

And that session is really about thinking through how do we take some of the learnings and calls to action's in these two reports and take them forward into our own work, around research, our own teachings, our own scholarly disciplines. I think that is exactly the kind of conversations that we're seeing a lot of happening around Congress.

CHERYL CROUCHER: AND IT CERTAINLY IS VERY TIMELY WHEN YOU CONSIDER ALL THE THINGS THAT ARE HAPPENING IN TERMS OF TRUTH AND RECONCILIATION NOW – THE VISIT TO THE POPE AND HIS APOLOGY. ALSO, WHEN YOU THINK ABOUT IT, YOU'VE GOT ALL OF THESE PEOPLE COMING TOGETHER AND THEY'RE ALL WORKING IN THESE AREAS OF RESEARCH. HOW DOES THIS GET PASSED ON TO THE PEOPLE WHO MAKE DECISIONS, LIKE OUR GOVERNMENT LEADERS OR MUNICIPALITIES OR DIFFERENT INSTITUTIONS? WHAT HAPPENS TO ALL OF THIS INFORMATION AND GREAT THINKING WHEN CONGRESS IS OVER?

Christine Vezina, Associate Professor, Faculty of Law at ULaval

LISA SEMCHUK: Yes. And I mean, it's such a great gathering and repository of information. And we actually have a couple of Career Corner sessions around that. How do you as academics or scholars help communicate that information to those audiences?

And I'd say the Federation does its best to make sure that our job as an organization is always to be keeping our ears to the ground around what are the conversations that are being had in humanities and social sciences. What are the key ideas that are emerging around what's happening in our world, that we should be putting forward to policy makers, to governments?

So I'd say that's where Congress maybe only happens once a year and we take a whole year of planning up to it. But for things like my role at the Federation, I'm always thinking about policy in addition to Congress. So I'm definitely planning with a keen open ear to think about, okay, what sort of ideas should the Federation be advocating for and carrying forward beyond our program.

CHERYL CROUCHER: AND LAURA, ANY THOUGHTS ON THAT?

LAURA CHAJKOWSKI: You know, Lisa's really brought up some really good points here. And what I would do to just add on to what Lisa has said is that, a lot of the preliminary research that's being presented by our graduate students and our PhD students, these are research projects that have been funded by the federal government through different granting programs that are offered by SSHRC.

Federation for the Humanities and Social Sciences

And there's also now a larger increase in the number of community research projects that are coming. So there has been more of a grassroots relationship with Congress as well and we're starting to see a lot of that community-based type of research coming into the program.

And one of the things is that we do highlight to many government departments and policy makers, as Lisa's referred to, and they come and they attend Congress, and they participate at the different events that are taking place. And so, highlighting the different types of research is really important. And we work with our member associations to keep that conversation going outside of Congress.

I would say that a lot of the time spent at Congress is also allowing our "Big Thinkers", if I can use that as a coin phrase here to really start to mingle into finding common ground.

I think that the Federation's opportunity to launch that first conversation happens a lot. Iit happens inside the classrooms and inside those keynote sessions and those abstract presenting sessions. But it also happens in the corridors and the hallways of a campus.

And we see every year an increase in the level of research and the capacity to enhance where the humanities and social sciences are going.

CHERYL CROUCHER: SO IT SOUNDS LIKE YOU'VE PRETTY WELL GOT THINGS UNDER CONTROL AND IT'S ONLY A FEW MORE DAYS BEFORE IT STARTS. BUT YOU'RE ALREADY STARTING TO PLAN FOR NEXT YEAR.

LISA SEMCHUK: Yes. I mean, we've been having conversations around things like the theme. Our academic convenor and our partner for next year will be at York University.

And so, the theme for next year is going to be on "Reckonings and Reimaginings". So, it's really centering this kind of conversation around equity, diversity, inclusion and decolonization, really honoring Black and Indigenous knowledge cultures and the many diverse scholars who share those identities.

So yes, like we said, we try to plan a year out in advance. So get the ball rolling now for what we hope is going to be a very exciting return to an in-person Congress.

CHERYL CROUCHER: WELL, IT SOUNDS REALLY WONDERFUL. AND THANK YOU VERY MUCH FOR TAKING TIME TO SPEAK WITH ME ABOUT IT TODAY. THANK YOU, LISA.

LISA SEMCHUK: I'm so thrilled to be here, so thank you so much for having us.

CHERYL CROUCHER: AND THANK YOU, LAURA.

LAURA CHAJKOWSKI: Well, thank you, Cheryl. I really appreciate the opportunity and I hope you can take in some of our sessions.

Congress 2022 is a premier academic event organized by the Federation for the Humanities and Social Sciences. Laura Chajkowski is Director of Congress and Events and Lisa Semchuk is Acting Policy Lead with FHSS.

For a list of all the Congress 2022 sessions check the FHSS website at Congress 2022. (https://www.federationhss.ca/en/congress/congress-2022)

Here are the "Big Thinking" presenters:

Onowa McIvor – NEȾOLṈEW "one mind, one people": Radical reclamation of Indigenous languages

Christine Vézina – Beyond "crimes of insolidarity": Considerations for a transition based on economic and social rights

Denise Ferreira da Silva – Shift in Thinking: It all begins with decolonization

Imre Szeman & Sheena Wilson – Petrocultures: Reflections on 10 years of research and advocacy for a world in crisis